Custom Molding Capabilities
Molding Solutions
Options
EPS foam can be molded into parts for various items such as assembly trays, packaging spacers, toys, flotation devices, models and display units. Easily secured by interlocking design or standard adhesives, EPS foam parts are lightweight, maintain better shape integrity and transport without hassle.
The specialized and innovative uses for EPS foam molding are endless. EPS foam packaging can be quickly engineered through in house design and fabrication. We can build foam prototypes for all applications before the tooling is manufactured, or we can build the tooling from prints.
Proper Sizing
Proper sizing of customer tooling and our wide range of foam molding presses allow for exact matching of customer usage requirements. We maintain the trust of our customers by designing and building the tooling that they need to fit their budgets and usage requirements.
Most tools run at TPI will mount into multiple foam molding presses. This allows for versatility and machine redundancy to relieve lead times and cover customer production emergencies.
Foam Molding Technology
We have kept our plant current by using advances in molding equipment, support equipment, cast tooling and raw materials.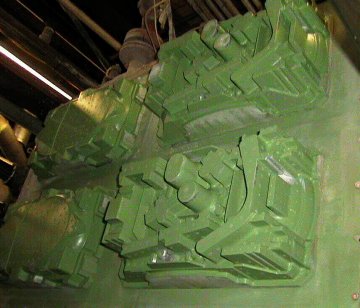 Material Solutions
Expandable Polystyrene Resin
We sample and purchase innovative EPS foam resins offered by our material suppliers. In order to protect ourcustomers' production schedules and part quality, we purchase raw materials from several trusted and reliable sources.
Expanded materials
We are capable of expanding bead sizes "A" "B" "C" and "T". We can bulk ship expanded material in several densities for customers that use loose, expanded beads.
Engineering Resins
We are proficient in molding with specialty resins such as R-MER® and expandable polyethylene (EPE) to meet our customers' special needs and design specifications. (R-MER® is a trademark of Huntsman Chemical Corp.)
MIL/FED Specifications
TPI can meet most MIL-SPEC and FED-SPEC requirements for foam packaging, static control and flame retardency.