Why Mold With Expandable Polystyrene
Packaging Superiority
Efficiency
To secure products for shipping, no other packaging provides the customized fit of EPS molded foam.
Labor Saving
Other packaging inserts only approximate product dimensions, often requiring complicated and time consuming assembly. Lightweight molded EPS foam, however, is quickly and easily secured to products, minimizing costs of design, assembly and distribution.
Superior Insulation
Due to its unparalleled insulation properties, EPS foam packaging is highly resistant to heat flow. As a result, many temperature sensitive products such as electronic components, pharmaceuticals, chemicals and perishable goods are packaged almost exclusively with EPS foam.
Dust free
EPS foam packaging provides superior cushioning and insulation for even the most delicate items. And, it will not significantly increase product weight or scratch delicate product surfaces. Nearly static free, EPS is easily treated for additional static protection in critical applications.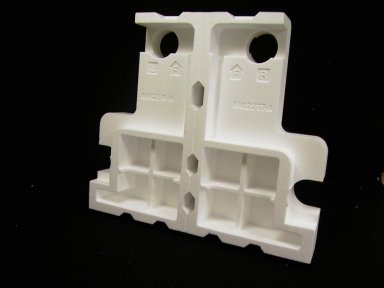 Security and Presentation
Secure Protection
EPS molded foam packaging provides a secure fit with no mess. It's solid, rigid structure helps prevent dangerous shifting during product shipment. Well-fitting custom EPS foam packaging offers minimal compressability, repeated handling and durability.
Presentation
Custom EPS foam packaging helps define quality products. Logos and data are easily molded into EPS packaging. EPS foam will not attract moisture or remove adhesive labeling. When a product arrives at its destination, it will be intact and ready for use.