Specialty Products and Services
Architectural EPS Foam Formliners.
Topper Plastics Inc. molds a full line of (Labrado) formliners for texturing concrete. At a fraction of the cost of rubber or other synthetic molds, EPS formliners lend visual appeal to any concrete structure.
The lightweight construction of EPS formliners makes them easier to transport and maneuver. They are disposable, yet durable making them the perfect choice for set design, concrete construction and other custom uses.
Recessed Concrete Signs & Letters
Architectural concrete signs and letters allow for the accurate reproduction of a wide range of logos, patterns and textures. Entire wall impressions, as well as subtle design accents, can be achieved. For detailed design and specification questions contact: info@topperplastics.com.
Foam Molding Options
EPS foam can be molded into parts for various items such as assembly trays, packaging spacers, toys, flotation devices, models and display units. Easily secured by interlocking design or standard adhesives, EPS foam parts are lightweight, maintain better shape integrity and transport without hassle.
The specialized and innovative uses for EPS foam are endless as the foam can be quickly engineered through in house design and fabrication.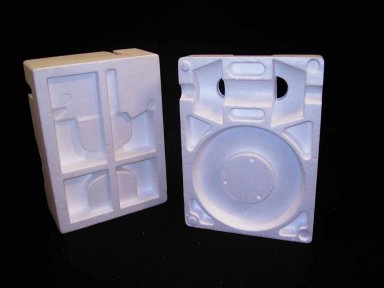 Stock Items
While most of our products are custom, we offer several sizes of in-stock corner protectors: 5 x 5 x 5 x 1.5 wall, 5 x 5 x 3 x 1.5 wall, 5 x 5 x 3 x 1.0 wall in EPS material.
Custom Fabrication of Rigid and Flexible Foams
TPI offers custom wirecutting and hand fabrication of EPS and flexible foams for customers who demand small scale production or prototyping. Please inquire.